This refreshingly addictive hibiscus tea vodka cocktail is made with lemon, ginger and honey. Super easy, beautiful and naturally sweetened! 🌺
As far as summer happy hour cocktails go, this is my top pick. It never fails to impress, striking a perfect balance between sweetness and tartness that's truly refreshing.
Native to India and Malaysia, the beautiful hibiscus flowers are used to brew hibiscus tea. This delicious beverage boasts a unique blend of tartness and sweetness, making it a perfect option for satisfying sugar cravings. Additionally, its cooling effect is particularly ideal for hot summer days.
Hibiscus is known to have numerous health benefits... do they still apply when drinking with alcohol 😉? Studies suggest that it may aid in reducing blood pressure, enhancing the immune system, promoting better digestion, and eliminating harmful toxins.
Jump to:
Ingredient Substitutions & Variations
vodka - omit to make a mocktail or substitute with your favorite type of clear liquor, like gin or tequila!
lemon - if you want your cocktail less tart, use less lemon. Sometimes I buy organic Lakewood lemon juice so that I don't have to juice a bunch of lemons. You can also use lime juice.
hibiscus ginger tea - substitute with soda water or your favorite herbal tea. You may need to adjust the amounts of simple syrup and lemon depending on the flavor. You can also make this with hibiscus powder which will still give you the same floral flavors.
honey simple syrup - I love honey simple syrup as it's easy to make and boasts various beneficial vitamins, minerals, and antioxidants. However, any type of simple syrup can be used interchangeably in equal amounts.
fresh ginger - omit or substitute a handful of mint. Ginger adds a wonderful depth of flavor.
soda water variation - add soda water or club soda for a lighter more bubbly variation.
add fruit - add some raspberries, fresh grapefruit juice or orange juice.
fall flavors - add a pinch of pumpkin pie spice mix for a delicious fall twist!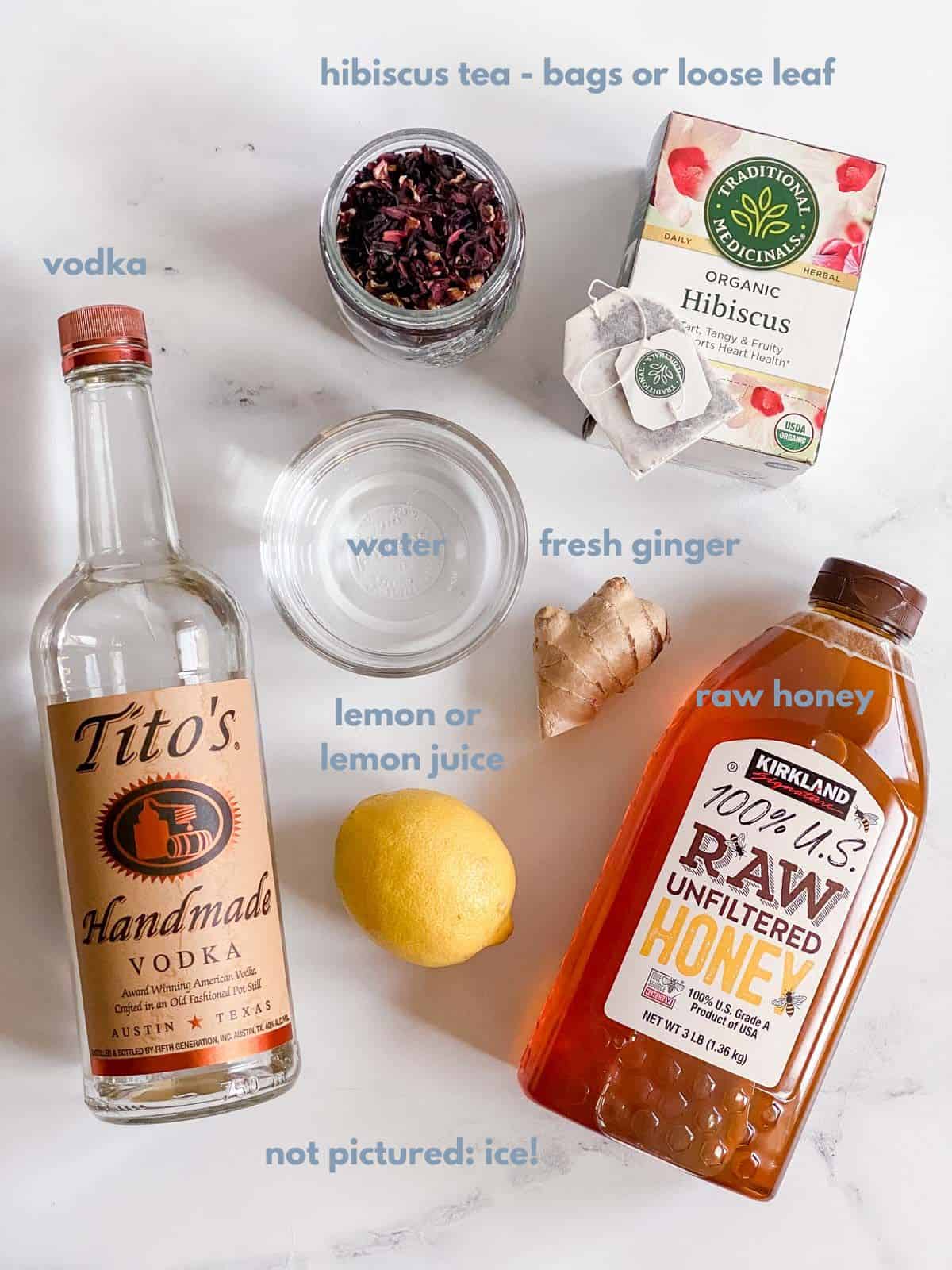 How to make it
First things first, let's get that hibiscus ginger tea ready before we mix the cocktail.
For every cup of tea, use 1 cup of water, a slice of ginger and either a tea bag or 1.5 teaspoons of loose leaf tea. Avoid using excess water, as it can dilute the flavor. You can cold brew the tea if you have time or quickly do a hot brew:
Cold Brew: Combine the hibiscus tea, ginger, and cold or room temperature water, and leave it in the fridge overnight (minimum 6 hours). Cold-brewed hibiscus tea has a smoother, more floral taste compared to hot-brewed tea.
Hot Brew: Boil water and steep the hibiscus tea and ginger for 10 minutes before removing. Cool the tea in the fridge. Unlike most teas, hibiscus tea doesn't become overly bitter with prolonged steeping, so it's fine if you forget to remove the tea bags immediately.
Next, make the honey simple syrup by mixing equal parts honey and hot water, then let it cool.
Let's get shaking! Combine vodka, hibiscus ginger tea, lemon juice, honey simple syrup, and ice in a cocktail shaker. Shake it up, then pour it into a glass with or without the ice. Give it a taste and add more lemon juice if you want a bit more tart, or more honey simple syrup if you prefer it sweeter. Sip away and enjoy!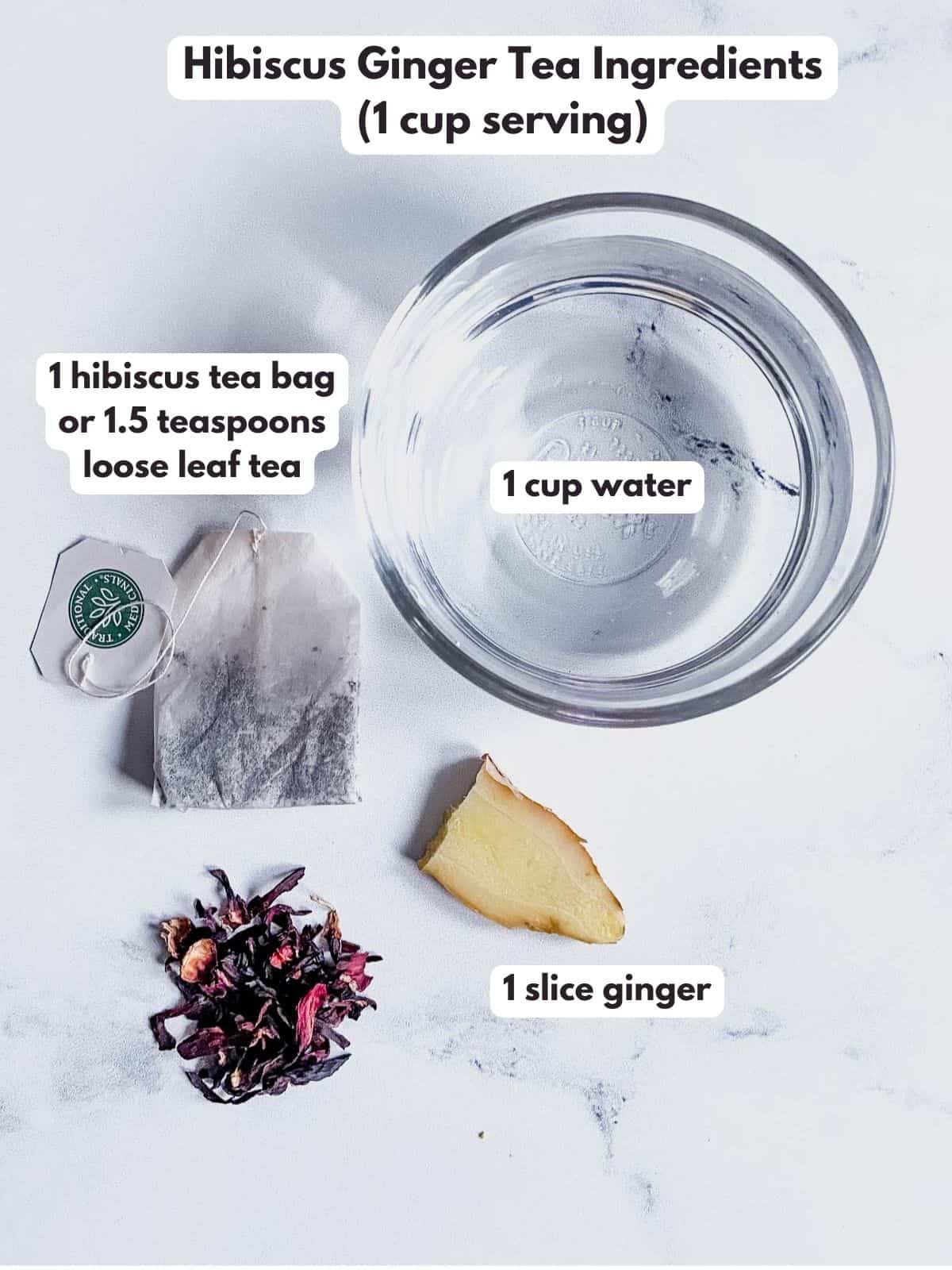 Hibiscus Tea Cocktail Garnish Ideas
Fresh fruit - lemon, raspberries, blackberries, orange slices
Edible flowers
Fresh mint sprig
Expert Tips
Make ice cubes out of the hibiscus tea! You can even put in a little lemon juice and honey simple syrup in them if you're trying to get wild. The larger the ice cube, the longer the ice will last in your hibiscus vodka cocktail.
Use your favorite hibiscus tea blend. I usually use this organic hibiscus blend with blackberry and lemongrass leaves.
Make extra honey simple syrup and use it to sweeten any future drinks.
Hibiscus FAQs
Does hibiscus tea have caffeine?
No. Hibiscus tea is naturally caffeine free, unless combined with other caffeinated teas.
How long will hibiscus tea last in the fridge?
Hibiscus tea will last up to 5 days in the fridge.
What pairs well with hibiscus tea?
Hibiscus pairs well with light dishes / appetizers, fruit, chocolate and desserts.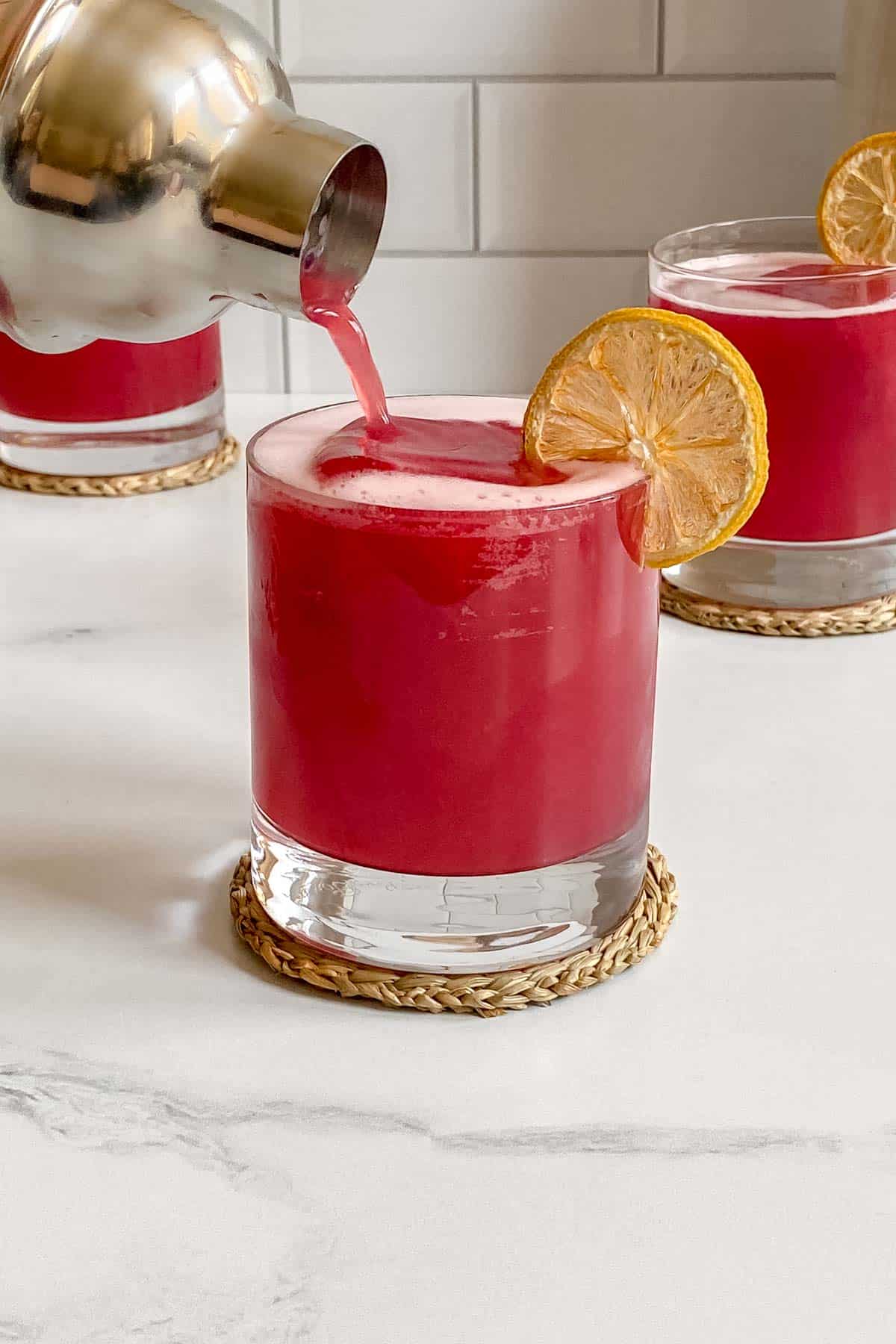 More clean cocktail recipes you'll love!
I hope you love this hibiscus tea cocktail! If you make it I'd love if you could leave a rating & connect with me on Instagram @passthesprouts!
Recipe
Hibiscus Tea Vodka Cocktail (all-natural ingredients)
This refreshingly addictive hibiscus tea cocktail is made with lemon, honey and vodka. Super easy, beautiful and naturally sweetened!
Print
Pin
Rate
Ingredients
Hibiscus Ginger Tea (makes 1 cup or 8 ounces):
1

cup

water

1.5

teaspoons

loose leaf hibiscus tea

or 1 tea bag

1

piece

ginger root (quarter inch)

taking skin off is optional
Single Hibiscus Vodka Cocktail:
2

ounces

vodka

2 ounces = 1 shot glass or ¼ cup

2

ounces

lemon juice

2 ounces = 1 shot glass or ¼ cup

3

ounces

hibiscus ginger tea

3 ounces = 1.5 shot glasses or ⅓ cup

1

ounce

honey simple syrup - .5 ounce hot water mixed with .5 ounce honey

1 ounce = .5 shot glass or 2 tablespoons

1

cup

of ice cubes

6 medium cubes
Instructions
Make Hibiscus Ginger Tea: Boil water and steep tea and ginger for 10 minutes, then cool in the fridge or freezer. If using loose leaf tea, be sure to strain it with a fine mesh strainer before using it in the cocktail.

Make Honey Simple Syrup: To make honey simple syrup, mix equal parts honey and hot water and allow it to cool.

Mix Cocktail: Time to shake things up! Grab a cocktail shaker and add vodka, hibiscus ginger tea, lemon juice, honey simple syrup, and ice. Shake it like a Polaroid picture and pour it into a cup with or without the ice. Take a sip and adjust to your taste - add more lemon juice for some tartness, or more honey simple syrup for sweetness. Cheers!
Recipe Notes
cold brew tea option: c

ombine cold or room temp water, sliced ginger and tea - place in the fridge overnight (6 hours minimum). Personally, I find that hibiscus tea tastes smoother and more floral when cold brewed rather than hot brewed but it takes longer.

batching: make a batch of these cocktails ahead of time, but leave out the ice. Alternatively, you can make the cocktail mix ahead of time and add the vodka and ice when serving.

no cocktail shaker:

if you don't have a cocktail shaker simply pour the hibiscus mixed drink between two cups, back and fourth until well combined then top with optional splash of seltzer.
buy bulk lemon juice: if you are making more than a few of these, you may want to buy a 32 ounce bottle of lemon juice from the store so you don't have to juice so many lemons.
mocktail: make it a refreshing mocktail without the vodka. It's a clean hibiscus lemonade!
Favorite hibiscus loose leaf
Favorite hibiscus berry blend tea bags
Nutrition
Calories:
192
kcal
|
Carbohydrates:
17
g
|
Protein:
0.4
g
|
Fat:
0.2
g
|
Saturated Fat:
0.03
g
|
Polyunsaturated Fat:
0.02
g
|
Monounsaturated Fat:
0.01
g
|
Sodium:
27
mg
|
Potassium:
97
mg
|
Fiber:
0.3
g
|
Sugar:
13
g
|
Vitamin A:
25
IU
|
Vitamin C:
22
mg
|
Calcium:
20
mg
|
Iron:
0.2
mg
Tried this recipe? Tag me on Instagram!
Mention @passthesprouts & leave a review!