Tired of boring vodka sodas? Let me introduce you to my signature drink. This refreshing raspberry lime rickey cocktail is ALWAYS a hit and has less than 3 grams of all natural sugar.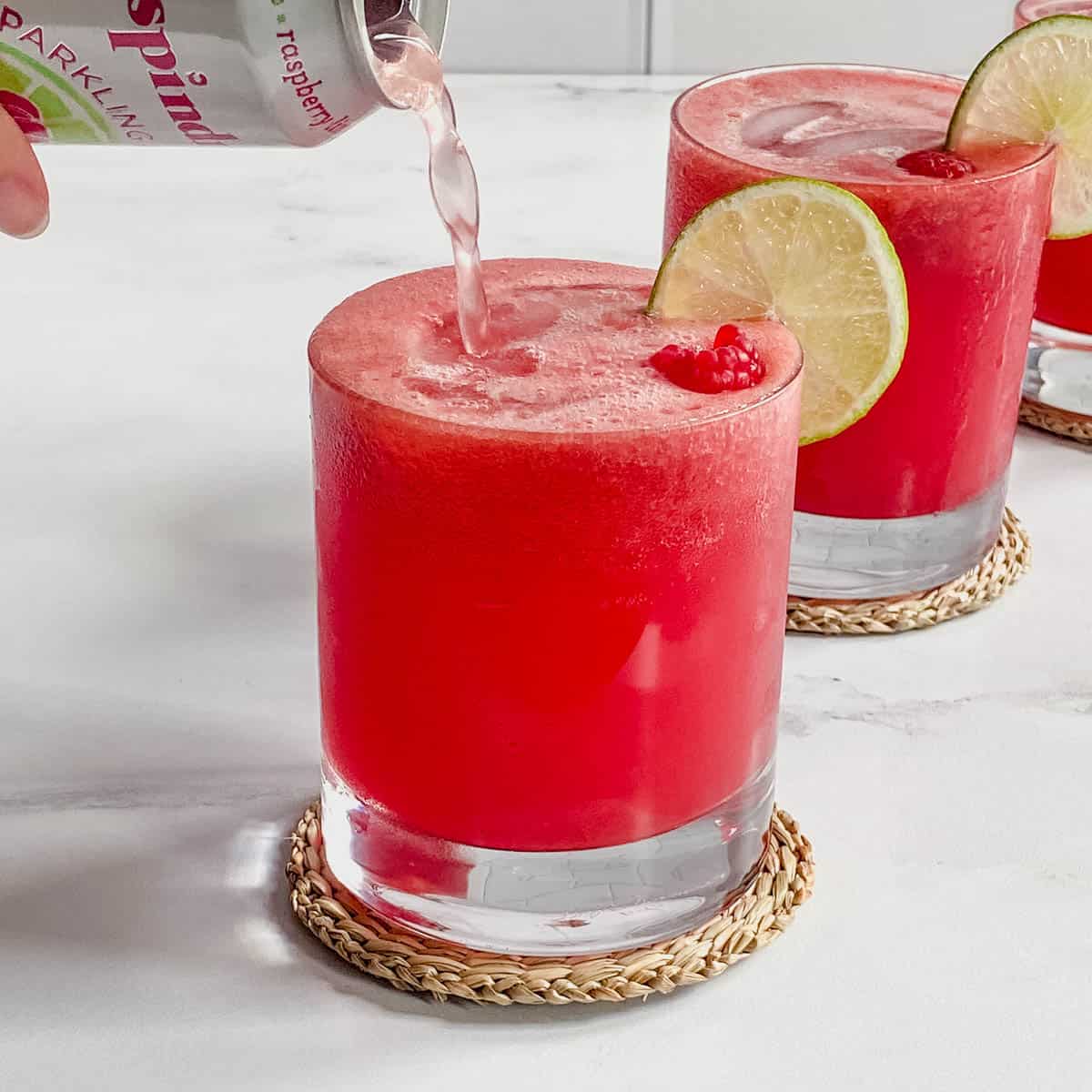 The raspberry syrup is made of two simple ingredients - frozen raspberries and honey. Then add lime juice, vodka and ice... easy! A healthy & fun cocktail that is both tart and sweet.
Sip sip! 😉
Jump to:
What is a raspberry lime rickey?
The raspberry lime rickey recipe is an iconic New England drink made of raspberry syrup, lime, seltzer water (or soda) and ice. They can be found all across southern New England at ice cream shops and diners on hot summer days.
Living in Boston, I naturally had to recreate my childhood favorite soda fountain drink but make it an alcoholic version (duh).
Why is it called a raspberry lime rickey?
Long story short... there was a guy named Colonel Joe Rickey in the early 1990s who drank whisky with seltzer and lemon after the civil war in Washington D.C. Then the prohibition hit and people fell in love with sour mocktail versions of the "Joe Rickey" that reminded them of their beloved cocktails. The New Englanders adopted this raspberry version and New York adopted a cherry lime rickey version.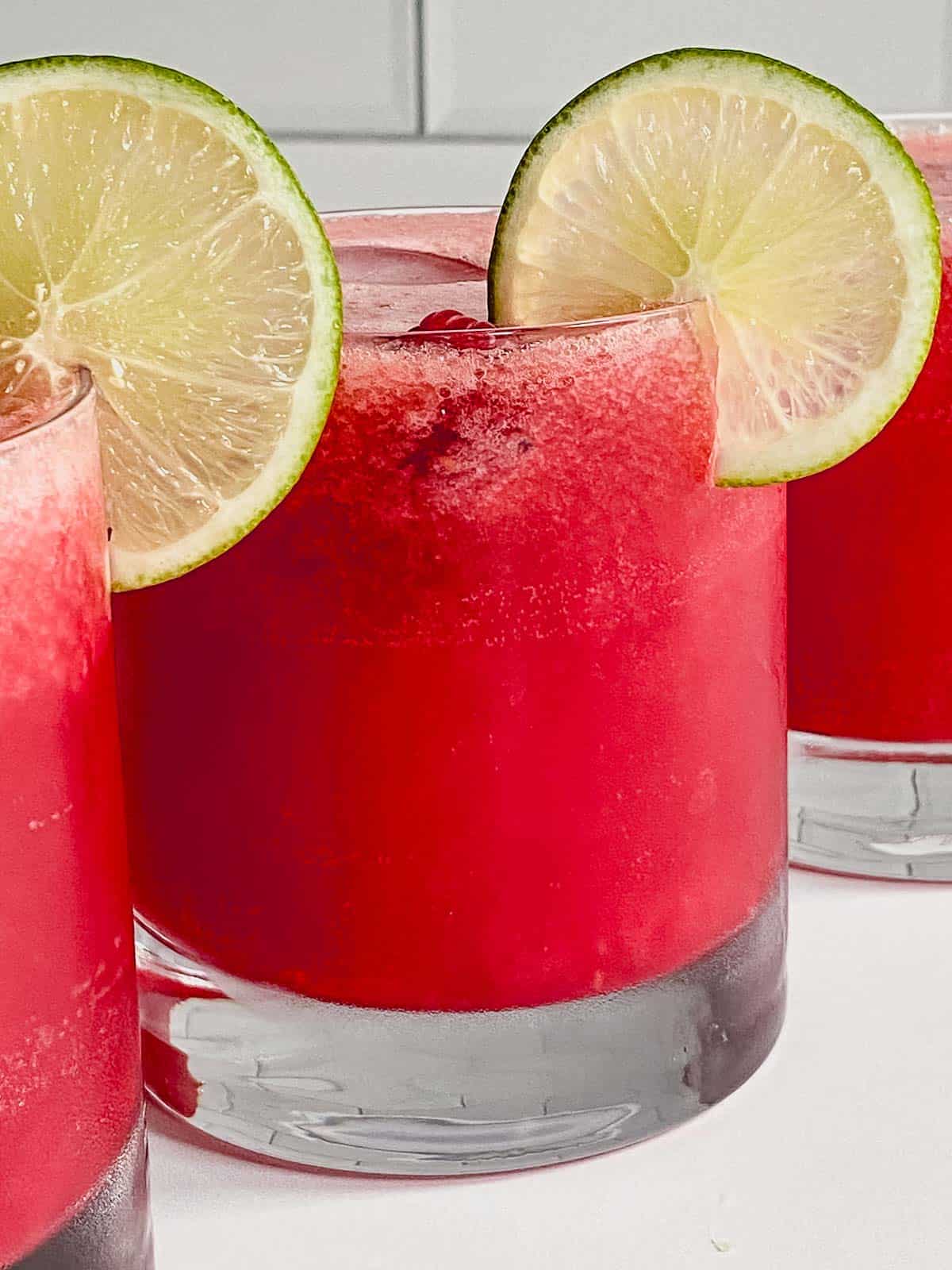 How this cocktail fits into your specialty diet
Low calorie
Refined sugar free
Low sugar - less than 3 grams of natural sugar per serving
No artificial flavors
Plant based
Clean
Ingredient Tips & Variations
vodka: replace with soda water to make it non-alcoholic or substitute with your favorite type of clear liquor. Replace with gin to make a raspberry gin rickey.
lime: if you want your cocktail less tart, use less lime. I like to buy organic Lakewood lime juice so that I don't have to juice a bunch of limes. Although, fresh lime juice does taste best. It's good to have some limes handy for garnishes.
sparkling water: read the label! Look for sparkling water with no "natural flavors", sodium, caffeine and 0 grams added sugar. My favorite brand is Spindrift because it's simple carbonated water that is flavored with real fruit juice. Club soda is a good substitute if that's what you have on hand.
honey: I use raw honey or agave for a natural sweetener but you can substitute for your preferred sweetener. I always buy "raw" or "unfiltered" honey because it's strained and bottled right from the hive. Conventional honey is typically pasteurized (by using high heat) and finely filtered to extend the shelf life and create a smoother aesthetic that appeals to consumers. However, these methods remove a lot of the beneficial nutrients of honey. Some manufacturers also add sweeteners like high fructose corn syrup to save money so be sure to read the label.
want it less sweet or less tart? use less lime for less tart, less honey or agave for less sweet. It'll still be a great drink!
frozen slushy: blend it all up for a frozen drink on super hot days.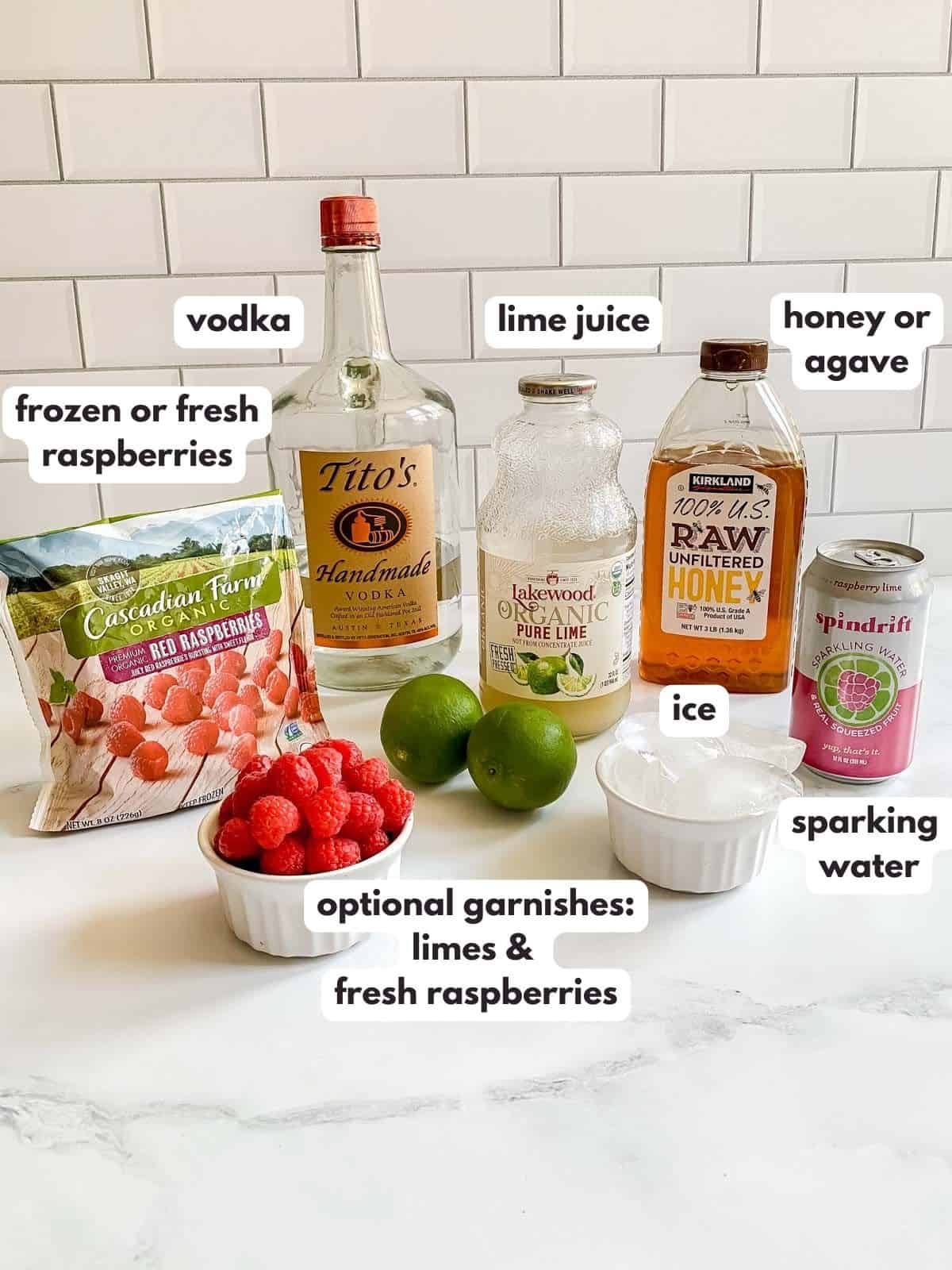 How to batch prep this cocktail
I highly recommend prepping the raspberry syrup and lime juice at minimum before serving this cocktail. I like to buy a big container of organic lime juice to make this mixer easier but you could also juice some fresh limes.
Calculate how many cocktails you want to batch. I usually make 16 because 8 ounces of raspberries makes 16 servings of the raspberry syrup. For 16 cocktails you need 8 ounces raspberries, 2 tablespoons honey or agave, 4 cups vodka, 2 cups lime juice, 3 liters of seltzer, and a bag of ice. Garnish with two lime slices and a pint of fresh raspberries.
Make the raspberry flavor and chill.
Combine raspberry syrup, lime and vodka in a large pitcher or large jar. The seltzer and ice should not be added until served because the ice will melt and the seltzer will lose its fizz. Store in the fridge.
Cut limes into wedges or slices and place in a small container in the fridge.
Once you are ready to serve you have two options: you can add the seltzer water and ice into the pitcher. Or you can serve each cocktail individually by pouring 2 shot glasses of the raspberry/lime/vodka mixture into a cocktail shaker or cup. Shake or stir with ice, empty the contents of the shaker into a tall glass and top with seltzer. Garnish each drink with a few fresh raspberries and lime wedge!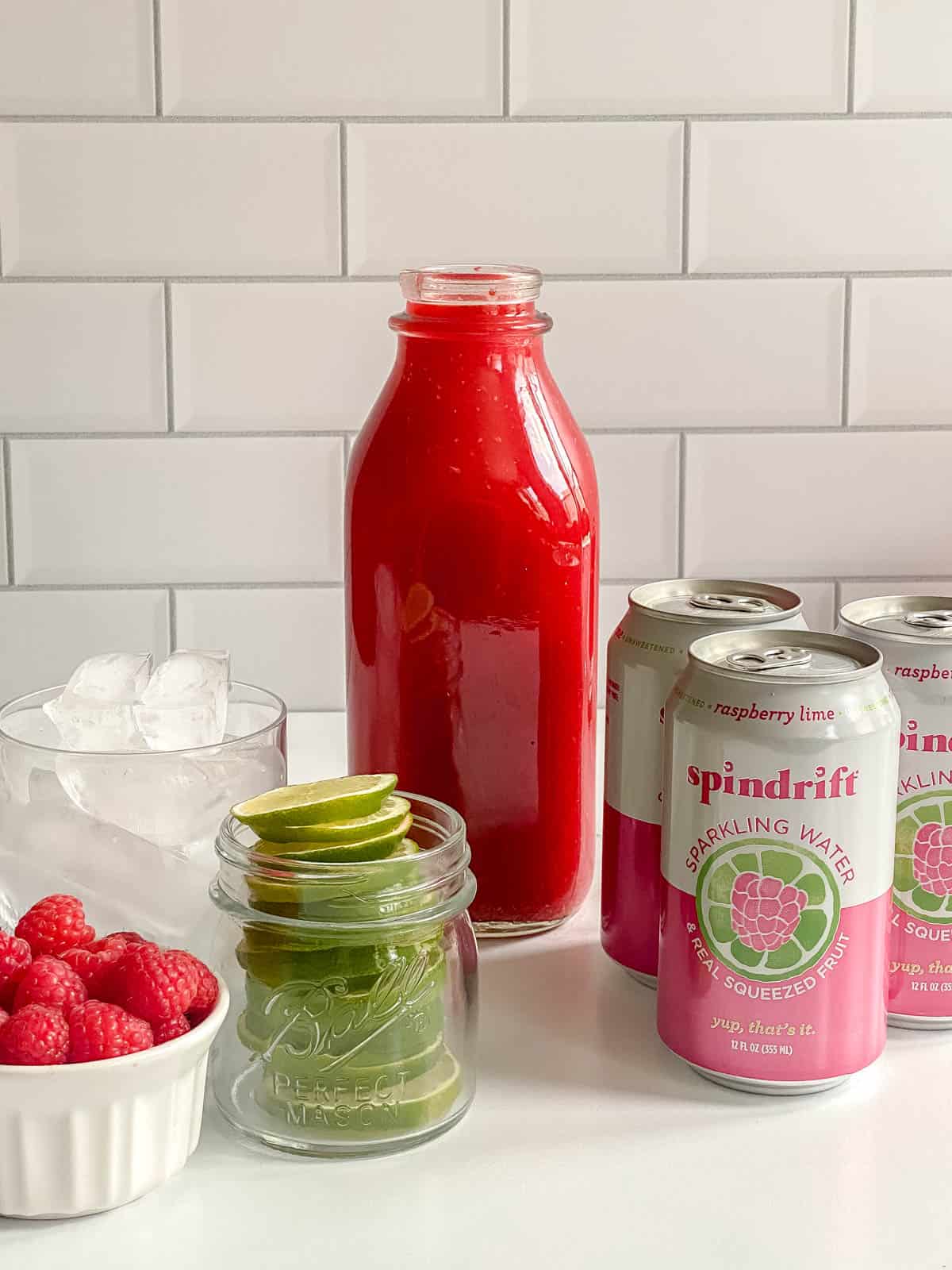 Garnish Ideas
Fresh raspberries
Fresh lime wedges or wheels
Dehydrated lime wheels
Edible flowers
Fancy straw
Mint or basil
FAQs
How long will homemade raspberry syrup last in the fridge?
Homemade raspberry syrup will keep for up to 48 hours in the fridge or 3 months in the freezer. After that, it should be discarded.
Can this cocktail become a non-alcoholic mocktail?
Absolutely! Substitute the vodka for seltzer water.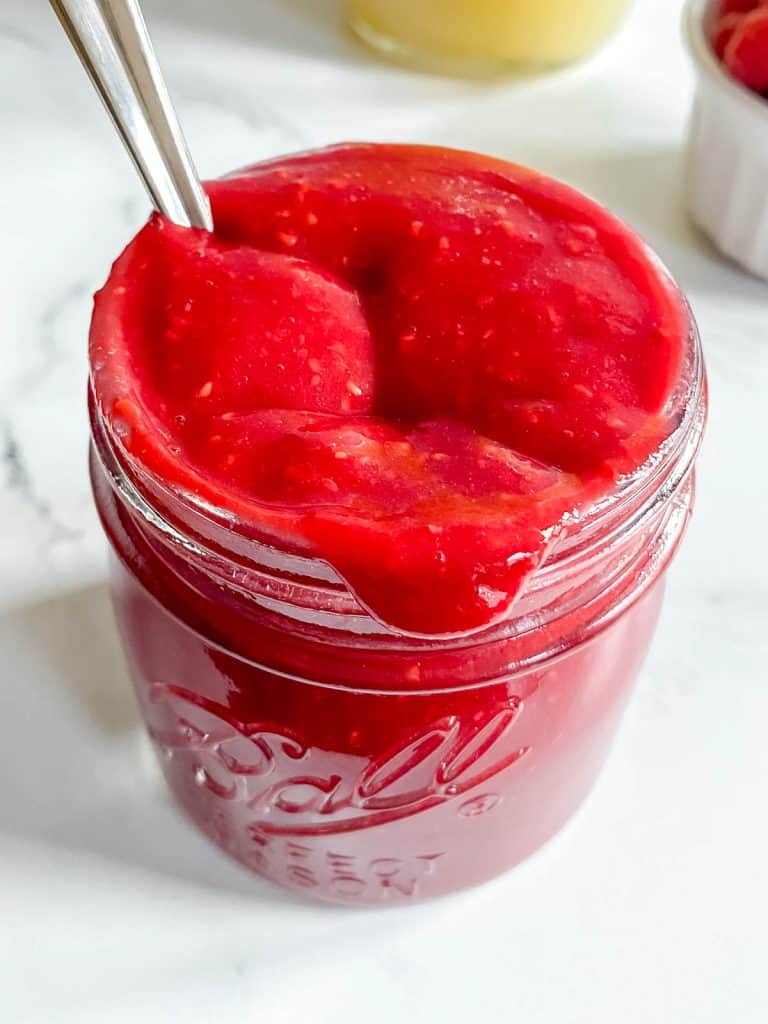 More clean cocktail recipes you'll love!
I hope you love this raspberry lime rickey cocktail! If you make it I'd love if you could leave a rating & connect with me on Instagram @passthesprouts!
Recipe
Raspberry Lime Rickey Cocktail
Tired of boring vodka sodas? This healthy raspberry lime rickey cocktail is ALWAYS a hit and has less than 3 grams of all natural sugar.
Print
Pin
Rate
Ingredients
Raspberry Syrup (makes 16 tablespoons):
8

ounce

bag frozen raspberries

or fresh

2

tablespoons

agave or raw honey
Single Drink Serving:
1

tablespoon

raspberry syrup

from above ingredients

2

ounces

vodka

2 oz = 1 shot glass or ¼ cup

1

ounce

lime juice

1 oz = 0.5 shot glass, 2 tablespoons or juice from 1 lime

10

ice cubes

4

ounces

plain lime or raspberry lime sparking water

4 oz = 2 shot glasses or ½ cup
Instructions
Make raspberry syrup: Place frozen raspberries and agave / honey in a small pot or pan and cover with a lid. Cook over medium heat on the stovetop until the raspberries break down (~5 minutes). Wait for the syrup to cool - speed this up by putting this in the fridge or freezer for a few minutes. Once the mixture is at least room temperature, blend into a puree (~10 seconds).

Create cocktail: In a cocktail shaker combine vodka, lime juice, raspberry syrup and ice. Shake well. Pour into a cup with the ice from the shaker and top with seltzer water.

Garnish (optional): Place a lime wheel on the edge of the cocktail glass and drop in a few fresh raspberries. Enjoy! Sip sip.
Recipe Notes
no cocktail shaker: if you don't have a cocktail shaker simply pour the drink mixture between two cups, back and fourth until well combined then top with seltzer.

make ahead of time:

a batch of these could be made ahead of time without the seltzer water & ice. Or make the raspberry syrup ahead of time adding the rest of the ingredients when serving.

mocktail:

make it a refreshing mocktail without the vodka.
vodka: substitute with your favorite type of clear liquor.
lime: buy bulk lime juice so you don't have to juice a bunch of limes.
honey: I use raw honey or agave for a natural sweetener but you can substitute for your preferred sweetener.
want it less sweet or less tart? use less lime for less tart, less honey or agave for less sweet. Add more honey or agave if you want it more sweet.
Nutrition
Calories:
157
kcal
|
Carbohydrates:
10
g
|
Protein:
0.2
g
|
Fat:
0.1
g
|
Polyunsaturated Fat:
0.03
g
|
Monounsaturated Fat:
0.01
g
|
Sodium:
32
mg
|
Potassium:
46
mg
|
Fiber:
0.5
g
|
Sugar:
6
g
|
Vitamin A:
14
IU
|
Vitamin C:
9
mg
|
Calcium:
15
mg
|
Iron:
0.1
mg
Tried this recipe? Tag me on Instagram!
Mention @passthesprouts & leave a review!